Newcomers to the Old City (and a few old timers too) find themselves wondering about the quality and variety of fishing here in Northeast Florida. The truth is, our region of the Sunshine State boasts some of the best angling opportunities in the nation. Fresh water or salt water; inshore or offshore; power boat, flat bottom or kayak … the possibilities are seemingly endless.
Today we will discuss offshore fishing, as it appears to be the one type that people don't get to experience as often as others. Some cite expense as the reason; others say it's too complicated. The reality is, it's not as expensive, or complicated as one might think. Yes, we have to travel a bit further to the deep water fish than much of the rest of Florida's east coast, and that requires a bit more effort (and fuel), but that in turn indirectly helps preserve our fish stocks due to reduced fishing pressure.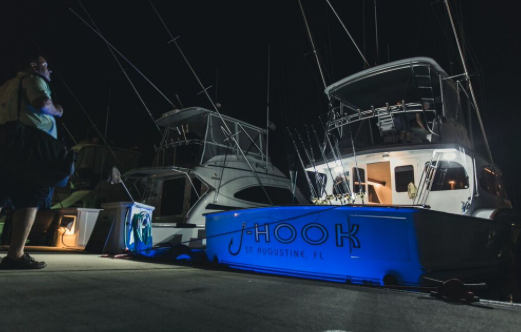 Northeast Florida has a wide variety of offshore species that are targeted at different times of the year with a wide variety of methods. Bottom fishing, for structure or reef dwelling species, often provides for shorter trips (mileage-wise) with fish caught at various depths on the bottom or slightly above bottom. Fish are typically found around underwater structure such as man-made reefs and natural structure such as rocks, ledges and natural livebottom reefs.
According to local captain, Jason Hadjis, of J-Hook Charters (www.jhookfishingcharters.com), the most popular species among local offshore bottom fishermen are various members of the snapper family (although at present, Red snapper fishing is banned off our coast) triggerfish, grouper and cobia. Most bottom species have limited seasons and all have daily bag limits, so if you're new to the sport, a charter trip with one of our local captains pays dividends in knowing what to target and how to go about it effectively and legally.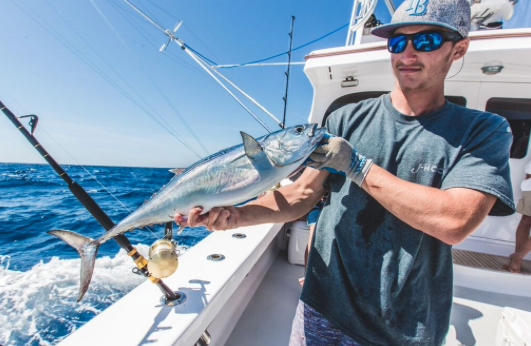 Prices for an offshore bottom fishing trip on a local charter boat can range from a low of $60 per person on a larger "head boat" type of vessel, such as the SEA LOVE which caters to large groups of fishermen, up to a range of $700-$2,500 per trip on a smaller, more private boat like the J-Hook, Jodie Lynn or Reel Therapy, which can typically accommodate 5 to 8 anglers providing a more intimate experience. SEA LOVE Captains, Bill Hoge and Darryl Lloyd, advise that weekends are usually more crowded and during the week the larger SEA LOVE boats typically have lesser crowds. Prices will vary depending upon the duration of the trip—half day or full day—but the fun you'll have and the memories you'll bring home on any given day will be worth every penny. The fresh fish fillets are a nice added bonus.
Trolling is another type of "Deep Sea" fishing we enjoy here off our
St. Augustine coast. Like bottom fishing, trolling targets a variety of different species in different conditions, near shore and offshore, but unlike bottom fishing, the trolloing angler targets open ocean, migratory, "pelagic" species of fish, by pulling lures and baits (to mimic swimming bait) behind the boat.
According to Captain Hadjis, his most popular target fish when trolling include mahi mahi, also known as dolphin or dorado, wahoo, sailfish and tuna.
You can even hook into a big marlin off our coast, particularly in late spring. Pelagics pass through the area seasonally and are targeted accordingly. Again, the experience and knowledge of a local captain or guide is instrumental in learning the basics.
Prices on trolling trips vary like bottom fishing trips, but when split among several members of a group, the price per person decreases accordingly and in most cases the fun increases with multiple members of the fishing party hauling in catches at the same time.
For the most up to date information on rates and scheduling and what is biting at the moment, check out the websites of the local fishing fleet for details.
One of the most common reasons locals cite in choosing to not experience offshore fishing is seasickness, which is valid one. Some folks have a problem with it; others don't. Lot's of folks claim to have a remedy —everything from a spoonful of pancake syrup to an earplug in the left ear only, have been passed around as ways to combat it. The best advice is to take precautions beforehand if you are susceptible to motion sickness. Once it gets you, it's got you. It's too late at that point to avoid it. There are many over the counter options, from Dramamine to the Transderm patch. Whatever option you choose, if this is an issue for you, do it in advance, often starting the evening before your trip. Also, keeping eyes on the steady horizon and fresh air (instead of heading for the cabin) will often reduce the effects.
For those of us fortunate to live on this beautiful Florida coastline, there are unlimited recreational options available for young and old alike. Don't shortchange yourself by failing to experience one of Florida's oldest and most exciting recreational opportunities. Get out on the water and enjoy the sport that Hemingway loved. At the least, you'll take home a lifetime of memories. At best, you might just get hooked.
DID YOU KNOW?
The Gulf Stream is an intense, warm, ocean current that flows north in the western Atlantic. The current flows at an average of 4 miles per hour.
Florida is home to over 500 native species of saltwater fish.
Personal fishing licenses are not required when fishing from a vessel for hire.
The Florida record for largest wahoo is 139 pounds. The World record is 184 pounds which was captured by 15 year Sarah Hayward from Nacogdoches, Texas in July 2005.
In spring when the water reaches 74
degrees, large schools of Mahi-Mahi migrate into our waters.
Cobia can be targeted in many ways. One of the most exciting is casting behind migrating manta rays in April and May as the cobias follow.
Red snapper fishing off northeast Florida was severely curtailed by federal regulations in 2010. But other members of the snapper family can still be targeted. These include Vermillion, Lane, Mangrove and Mutton.
St. Augustine Inlet is home to the Florida State Record Red Grouper at 42 pounds, 4 ounces.
St. Augustine is home to the Northeast Florida Marlin Association,  founded in 1973.
Women enjoy fishing too. "Ladies Lets Go Fishing" is a national organization that teaches women all over the world, how to fish and how to improve their skills. They have an event scheduled in St Augustine August 13-14, 2016. Go to www.ladiesletsgofishing.com
Saltwater fishing contributed $1.7 billion to the state economy in 2015 and produced over 109,000 jobs.