Joel Bagnal Goldsmith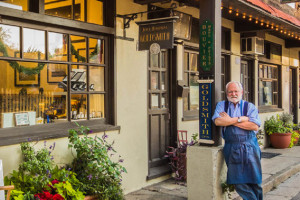 Custom gold jewelry design in historic St. Augustine
Joel Bagnal Goldsmith in St. Augustine, Florida has something special for you. It may be a special anniversary. It may be that you're marrying your Sweetheart. Maybe it's Christmas, or Hanukkah, or an important birthday. It may be a business commemorative or maybe it's just time for a "To-me-from-me-with-love" jewelry present. But it's time to commemorate something very personal in precious metal and maybe gemstones from Joel Bagnal Goldsmith.
Nationally respected, locally prominent St. Augustine Goldsmith, Joel Bagnal provides custom design services and a line of elegant earrings and pendants to satisfy your special taste. With emphasis on custom designed gold wedding rings, Joel also enjoys the special challenges of commemorative objects executed in precious metals, and the discipline of producing a select line of retail jewelry.
Don't forget the tradition of First Friday Art Walk! All of St. Augustine's galleries on Aviles and King Street are open on the first Friday evening of every month from 5 to 9. Enjoy wine, cheese, nibbles, and great music in the streets. It's St. Augustine's monthly street party. Come to the Art Walk and meet the friends you didn't know you had.
Address: 11 Aviles Street, Saint Augustine, FL 32084
Contact Joel Bagnal Goldsmith:
Call: 904-614-4706
Visit: https://www.joelbagnalgoldsmith.com/
Interactive Map: