Carla Shoes and Accessories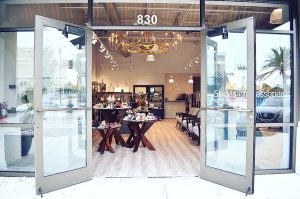 Carla Shoes & Accessories is a family-owned, one-of-a-kind specialty boutique located in beautiful Ponte Vedra Beach, Florida, since 1996. Our mission is to seek out an upscale mix of contemporary and classic fashionable shoes and accessories from around the world, sharing these fabulous finds with our discerning customers.
Keeping our customers always in mind, Carla's works to stay on trend, featuring unique shoes and accessories from top designers to cutting-edge new talent. Whether stylish, trendy, or classic, our merchandise is always of the finest quality. The shopping experience at Carla's is both intimate and personal, away from the crush of anxious shoppers and hurried salespeople often found in larger malls. Our friendly, knowledgeable sales professionals look forward to serving you.
We invite you to stop by, relax, get comfortable, and let us assist you in a shopping experience like no other.
Address: 310 Front Street, Ponte Vedra Beach, FL 32082
Contact Carla Shoes and Accessories:
Call: 904-543-1566
Visit: www.carlashoes.com
Social:
Interactive Map: