San Sebastian Winery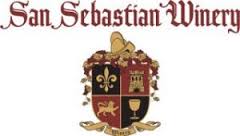 The San Sebastian Winery offers complimentary tours and tasting of award winning wines seven days a week. Tours start every 20 minutes. An assortment of San Sebastian wine and gourmet food items available in gift shop on premises. Open 10 a.m. – 6 p.m. Monday – Saturday, 11 a.m. – 6 p.m. Sunday.
The Cellar Upstairs Wine, Jazz and Blues Bar is located on rooftop patio of the Winery, featuring incredible live music with an eclectic mix of Jazz / Blues entertainment from talented musicians. Relax to the music and enjoy the tremendous views overlooking the San Sebastian River and the St. Augustine Skyline. Offering a fine selection of San Sebastian Wines, beer and light gourmet appetizers to delight every palette. Open Weekends.
Type of Cuisine: Cafe
Features: Brunch, Live Music, Casual Dining, Fine Dining, Family Friendly, Cafe
Address: 157 King Street , Saint Augustine, FL 32084
Contact San Sebastian Winery:
Call: 904-826-1594
Visit: SanSebastianWinery.com
Social:
Interactive Map: