St. Johns Golf and Country Club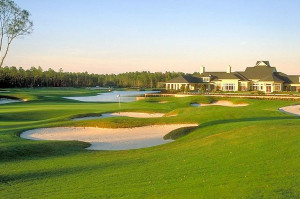 Extraordinary Experience
That's what awaits you at St. Johns Golf and Country Club located in St. Augustine, Florida. Take advantage of this great golf course and book your online tee time at St. Johns Golf today! A 10,000 square foot putting green, a separate chipping green, a double sided driving range, and practice bunkers are open during regular course hours.
Golf Boarding
Take the best from a skateboard, surfboard, snowboard and a golf cart and what do you get? The GolfBoard! Strap your bag to the front, put your drink in the cup holder, thumb the throttle and you're off! Shift your weight from side to side to literally carve the course up. This is golf like you've never experienced before!
Weddings & Banquets
Over the years St. Johns Golf and Country Club has come to intimately understand the challenges in flawlessly executing an event, including incredibly personalized level of service. Your special day will take place against a picture perfect backdrop while the wedding planning team works tirelessly in the background combining their dedication and experience ensuring every detail is immaculate and nothing is overlooked. Great amenities are nothing without your friends and family, your personal touch and St. Johns Country Club staff to create memories that will last a lifetime.
Address: 205 St Johns Golf Drive, Saint Augustine, FL 32092
Contact St. Johns Golf and Country Club:
Call: 904-940-3200
Visit: http://www.stjohnsgolf.com/
Interactive Map: