Villa Zorayda Museum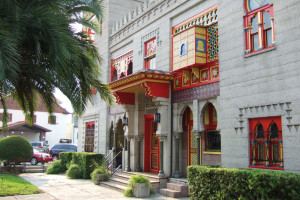 After several years of historical renovation, the Villa Zorayda with its collection of unique antiquities is a must see on your visit to our nation's oldest city!
The Villa Zorayda was built in 1883 as the winter residence of architect and businessman, Franklin W. Smith. The building's architecture was influenced by the famous Alhambra Palace in Granada, Spain and is one of the few pristine examples of the intricate beauty of Moorish design in America. Smith's poured concrete and crushed coquina shell method of construction began at the Villa Zorayda and was later used throughout St. Augustine during the City's "Gilded Age" time period. The Zorayda also set a precedence for the Moorish Spanish revival style of architecture that is seen throughout the City today.
The Zorayda had a lively past including being a high-end Club with casino gambling, dining and dancing and a speakeasy during Prohibition. In 1913, the building was purchased by Abraham S. Mussallem, an authority on Oriental rugs, fine arts and Egyptian antiquities. In the mid 1930s it opened as a museum featuring the priceless antique collections of both Franklin Smith and A.S. Mussallem which are still on display today. Our collection consists of spectacular furnishings, pottery, art work, statues, and more from all around the world. The 45-60 minute tour gives an in depth look at the historical significance of the building to the City of St. Augustine, the magnificent architecture, as well as descriptions of the many exquisite pieces you will see. The self guided audio tours are available in English, Spanish, and French and are included with your admission. Free parking while visiting the Museum.
Evening "Candlelight Tours" of the Museum on select nights during St. Augustine's "Nights of Lights" Celebration.
Address: 83 King Street, Saint Augustine, FL 32084
Contact Villa Zorayda Museum:
Call: 904-829-9887
Visit: http://www.villazorayda.com/
Interactive Map: