Marineland Dolphin Adventure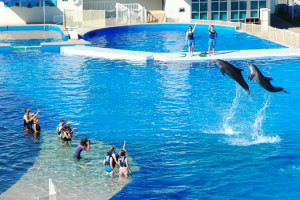 Marineland opened in June of 1938 as Marine Studios – a facility designed for Hollywood film makers to create underwater footage for their movies. Throughout the years, Marineland has pioneered studies in marine science, animal training, water chemistry and so much more. Marineland served as the model by which so many other aquariums, oceanariums and marine parks based their own development and design. Marineland was also the first to successfully breed and train Atlantic bottlenose dolphins, and it was the early scientists here who discovered dolphin echolocation, social behavior and communication.
Gone are the days when the emphasis was on performing animals. Now the guests join the animals in their habitats and make the physical and emotional connection that inevitably leads to a true understanding of why we need to protect these incredible animals and their marine environment. Programs such as the Immersion and Discover Dolphins lead you into a watery world like none you've ever experienced before. Looking for something less adventurous? Keep your feet on dry land as you meet the dolphins in our Touch and Feed program, or participate in Dolphin Designs for the more artistically inclined.
In 2011, Marineland's Dolphin Conservation Center was renamed Marineland Dolphin Adventure, in association with the Georgia Aquarium. As Marineland settles into its new role in the community as a place for education, inspiration and connection, we continue to expand our audience by expanding the programs we offer. Summer camps, school field trips, weddings, corporate functions and neighborhood meetings all benefit from the beautiful scenery, charismatic dolphins and multi-purpose meeting areas.
Address: 9600 N. Ocean Shore Blve., Saint Augustine, FL 32080
Contact Marineland Dolphin Adventure:
Call: 904-471-1111
Visit: http://www.marineland.net/
Interactive Map: