Black Raven Pirate Ship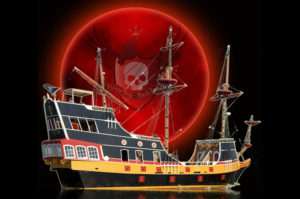 See Florida's best live pirate show onboard the Black Raven Pirate Ship. Black Raven was designed and built for its purpose, to be a floating performance stage for live Pirate Shows. In fact, the ship was designed to fit the dock where she is currently moored.
Black Raven Pirate Ship Adventures provides a wide variety of dynamic and interactive entertainment programs that will suit all ages. The crew's ambition is to deliver the best Pirate Show in Florida regardless the audience age group. The performance is rehearsed, but not scripted, allowing the pirates to improvise with the crowd. And you will never know what will happen while sailing across the mystic Matanzas Bay…..

Address: 111 Avenida Menedez, Saint Augustine, FL 32084
Contact Black Raven Pirate Ship:
Call: 904-826-0000
Visit: http://www.blackravenadventures.com/
Interactive Map: