St. Augustine Eco Tours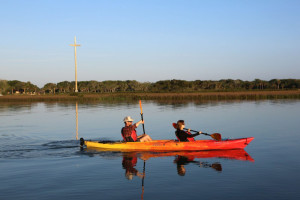 St. Augustine Eco Tours was founded as an educational resource for the local and extended community. The goal of their programs is on-water interpretive experiences that focus on environmental education, conservation, and wildlife and habitat protection.
Boating Expeditions
Select from the popular Dolphin, Birding & Nature Tour, Photography Tour, Beachcombing Tour or contact St. Augustine Eco Tours about a private adventure.
Kayak Adventures
St. Augustine Eco Tours offers one of the most unique and user friendly kayak tours in the Southeast. Extremely stable tandem kayaks with rudders make steering a breeze for beginners or the more experienced paddler.
Sailing Excursions
Let the wind take you into the habitats of dolphins and wading birds as you breathe in the fresh air and just relax. Passengers are welcome to help work the sails if conditions are suitable.
Address: 111 Avenida Menendez, Saint Augustine, FL 32084
Contact St. Augustine Eco Tours:
Call: 904-377-7245
Visit: http://staugustineecotours.com/