Victorian House B & B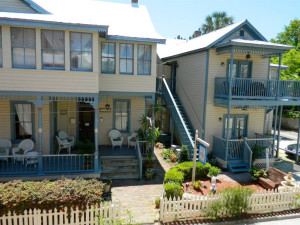 The perfect place for a romantic weekend in St. Augustine FL, this Victorian house was built in 1895 and meticulously restored in 1983. Each guest room in this historic St Augustine bed and breakfast is decorated lovingly with unique touches and comforting heirlooms. All rooms feature private baths; some offer double Jacuzzi tubs, Victorian claw footed tubs, fireplaces, and private Victorian porches.
Enjoy your first cup of coffee from your balcony or on the front porch as you witness the sights and sounds that start a day in the life of the Ancient City. Birds singing, shop doors opening off in the distance, the smell of breakfast being prepared all over town.
The Victorian House is within easy walking distance from everything you'll want to do while you're here yet is tucked away nicely on the corner of Cadiz and Aviles Streets and seems to invite only the sounds you wish to hear.
Accomodation Type: Bed and Breakfast
Address: 11 Cadiz Street
Contact Victorian House B & B:
Call: 904-824-5214
Visit: http://www.victorianhousebnb.com