Southern Wind Inn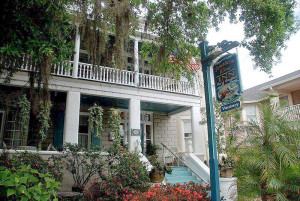 The Southern Wind Inn Bed and Breakfast is in the heart of St. Augustine's Historic District just 2 blocks from St. George Street and walking distance to everything. And have plenty of free parking! Experience our beautiful turn-of-the-century B&B where we'll serve you a full and hearty breakfast every morning in either our formal dining room or on one of our spacious verandas.
The Southern Wind Inn Bed and Breakfast Inn is built of coquina masonry with columns and verandas that accent her gracious southern charm. Passing horse-drawn carriages contribute to the ambience of a bygone era. Southern Wind Inn Bed and Breakfast has retained its vintage architecture while offering you the comforts of central air, king and queen size beds, and private baths. Each bedroom is uniquely appointed with period furnishings and antiques. Additionally, all rooms feature free WIFI internet access as well as HD televisions and FREE HBO.
Note: Children age 12 and older are welcome. Sorry, but no pets.
Accomodation Type: Bed and Breakfast
Address: 18 Cordova Street
Contact Southern Wind Inn:
Call: 904-825-3623
Visit: http://www.southernwindinn.com/