Old City House Inn & Restaurant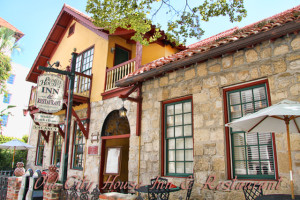 Step into the 1873 Old City House Inn and Restaurant and you'll be swept away by its historic relevance and distinctive legacy to St. Augustine. The Old City House Inn and Restaurant is one of historic St. Augustine's premier Bed and Breakfast Inns, and has been serving St. Augustine Bed and Breakfast guests for over 20 years. The Old City House Inn features 7 Bed and Breakfast rooms decorated to reflect old classic but elegant style.
All of the Bed and Breakfast rooms at the Old City House Inn and Restaurant have queen size beds, private entrances, en suite bathrooms, cable TV and free WIFI. Bed and Breakfast guests are treated to a complimentary full cooked breakfast in the mornings and a glass of wine in the evenings. A cheese and wine social is held on weekends and holidays. Onsite parking for Bed and Breakfast guests is included, and complimentary bicycles and soft drinks are available. This Historic Inn is located on all sightseeing trolley routes, so you can park your car and enjoy easy transportation around the Nation's Oldest City.
The award-winning, Historic Bed and Breakfast is pair with an award-winning Restaurant; making the Old City House Inn and Restaurant the only Bed and Breakfast in historic St. Augustine with a full service Restaurant and Bar. The Restaurant is open for lunch, and dinner 6 days a week.
Accomodation Type: Bed and Breakfast
Address: 115 Cordova Street
Contact Old City House Inn & Restaurant:
Call: 904-826-0113
Visit: http://oldcityhouse.com/
Social: