La Fiesta Ocean Inn & Suites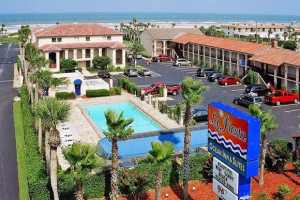 Florida Oceanfront Lodging
Experience the rich history and charm of St. Augustine FL while staying on the ocean.  La Fiesta Ocean Inn & Suites combines an incredible oceanfront location, award winning service, and uncompromising amenities to provide a truly exceptional stay.
Enjoy your St. Augustine Beach hotel experience. Over 14 miles of unspoiled beach is located just footsteps from your door on our private walkway and is perfect for activities that range from swimming, bicycling, walking, jogging, fishing, or just enjoying a relaxing beach vacation.
St. Augustine Beach Accomodations
St. Augustine, FL is America's oldest city and features a variety of attractions, shops, and culinary delights that will make your Florida beach vacation one to remember. La Fiesta Ocean Inn & Suites is is only 10 minutes drive to historic downtown St. Augustine, allowing guests to easily visit the St. Augustine Amphitheater, St. John's County Fishing Pier, St. Augustine Alligator Farm and nearby St. Augustine Lighthouse.
The La Fiesta beachfront hotel features a newly renovated resort-like setting including Garden View rooms, Ocean View and Ocean Side rooms. Families will enjoy the spacious 2-level ocean view townhouse suites that sleep 5, pool area rooms and a large Apartment Suite with a full kitchen. Many rooms at La Fiesta Ocean Inn & Suites feature ocean views, private balconies, and much more.
Accomodation Type: Hotel
Address: 810 A1A Beach Blvd.
Contact La Fiesta Ocean Inn & Suites:
Call: 904-471-2220
Visit: http://www.lafiestainn.com/