Inn On Charlotte Street Bed & Breakfast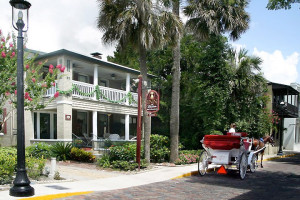 Affordable Luxury in St. Augustine – the Nation's Oldest City
Built in 1918, the Inn on Charlotte Street is an elegant bed and breakfast in the heart of the nation's oldest city. The B&B is just steps from the bayfront on a quiet brick-lined street. The home has been lovingly restored to reflect its original grandeur and is carefully decorated with antique furnishings and accessories. As a bed and breakfast since 1993, the Inn on Charlotte has become known for its Southern hospitality which, of course, means relaxation and comfort for you.
Modern Amenities
The Inn on Charlotte Street adult-centric, romantic, bed and breakfast features eight (8) superbly appointed guest rooms, each with…
Comfortable king or queen-size bed
Private bathroom
Several of our rooms have large whirlpool tubs
While others have luxurious spa-jet showers
Iron & Board, Blow dryer, Shampoo & Body Gel
Plush towels and handy Makeup removers
iPad/iPhone-docking station or sleep machine/Clock radio
Cable TV
One parking space is offered for each confirmed room booking
The Inn on Charlotte is known for its tasteful dining room where each couple has a private table, and can be seated in comfort all at one time, and delicious 2-course breakfast is served at 9:15 am each morning. Typical morning recipes might include for the first course: Poached pear with a chilled almond cream sauce. And, as the 2nd course: Applesauce pancakes with Rod's homemade vanilla syrup. Or maybe: Chilled strawberry cream soup to start with and, Eggs Benedict Casserole slathered in Hollandaise sauce served with our Sour cream Banana Bread with Blueberries to follow. The Inn on Charlotte likes to switch each morning from a Sweet breakfast, to a Savory one. And always, please make us aware of any food allergies or dietary needs when booking.
Relax in the casual elegance of our comfortable parlor or enjoy our large, shaded front porch as you sip a little lemonade, tea, or filtered water throughout the day, or enjoy some complimentary wine or beer during our social hour. You'll soon find yourself slipping into the leisurely pace of the historic district of Saint Augustine, Florida, the nation's oldest city.
Accomodation Type: Bed and Breakfast
Address: 52 Charlotte Street
Contact Inn On Charlotte Street Bed & Breakfast:
Call: 904-829-3819
Visit: http://www.innoncharlotte.com