Edgewater Inn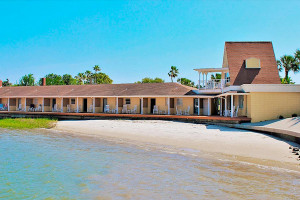 The Edgewater Inn is a quaint Florida hotel that offers a waterfront oasis just steps away from the downtown historic district of St. Augustine. Wake up each morning, gaze over the bay, and see the sun shine on the historic buildings as the morning develops.
The calm glistening waters of the Matanzas River, the sailing ships moored in the gentle waves, the impressive Castillo de San Marcos ever protective of the city's harbor. History over the bay creating memories few get to experience, and it's all within walking distance of the Edgewater Inn!
The Edgewater Inn offers a relaxing, scenic and historic escape in the heart of St. Augustine, Florida. Located just a short walk from downtown St. Augustine's Historic District at the foot of the Bridge of Lions, you will find this to be the perfect escape for your next getaway. The hotel features:
19 well-appointed guest rooms, including 11 Waterfront View King size bed, 2 Waterfront Two Double beds, 4 Standard King size bed and 2 Standard Two Double beds
Outdoor Swimming Pool
Guest Lounge
Breakfast Lounge
Walking distance to downtown St. Augustine
Easy access to the Castillo the San Marcos National Monument, Cathedral Basilica of St. Augustine, Flagler College, St. Augustine Lighthouse, St. Augustine Alligator Farm and Zoological Park, Shops on St. George Street and so much more to see and enjoy a relax walk in Anastasia State Park.
Accomodation Type: Hotel
Address: 2 St. Augustine Blvd.
Contact Edgewater Inn:
Call: 904-825 2697
Visit: http://www.stayatedgewater.com/