Devils Elbow Fishing Resort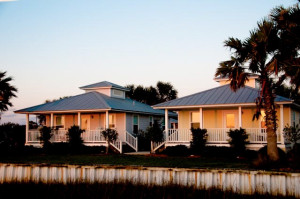 Devils Elbow Fishing Resort has been Crescent Beach's number one fishing destination for over 50 years.  They are now offering 10 new waterfront rental cottages to insure that fishermen and boaters have another 50 years to enjoy the fishing and boating opportunities that St. Augustine offers.
The Devils Elbow Fishing Resort's waterfront rental cottages are already the talk of St. Augustine.  They are designed in the "Old Florida" style with covered porches, tin roofs, roof-top cupolas and hardwood floors throughout.  They are comfortably furnished, spacious and incredibly relaxing.  Scattered around 5 acres of waterfront property with views of the Intracoastal Waterway from each and every cottage, the arrangement of the cottages on the property allow gentle ocean breezes to relax and refresh.  Early evenings are the perfect time to watch dolphins frolic from the waterfront porch rocking chairs.
Accomodation Type: Resort
Address: 7507 A1A South
Contact Devils Elbow Fishing Resort:
Call: (904) 471-0398
Visit: http://www.devilselbowfishingresort.com/