Carriage Way Bed & Breakfast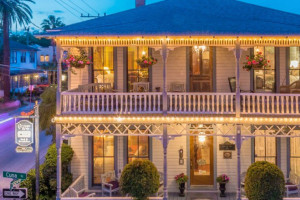 This is the place to be!
Carriage Way Bed & Breakfast and Carriage Way Cottage are newly renovated with a long history of entertaining and exceeding expectations in comfort and hospitality. This beautiful Victorian home (c. 1883) is in the heart of St. Augustine's Historic District. The first thing that captures your eye is the two expansive verandas perfect for relaxing and socializing. As you enter the front door, you are greeted by an exquisite parlor and bistro dining room. Each graceful room features color palettes of gem stones and precious metals and is adorned with antiques, architectural artwork and elegant modern amenities. Friendly and hospitable atmosphere surrounds you.
Located in the very center of history, the Carriage Way Bed & Breakfast inn is located just steps from old St. George Street: home of the walking mall with unique and charming shops, museums, historic sites, and beautiful views. Flagler College (the original Ponce de Leon Resort Hotel), the 17th-century European fort Castillo de San Marcos, many fine restaurants, art galleries, carriage tours, and the waterfront are within four short blocks. All sites within the Historic District are only a 5- to 10-minute stroll from the inn. While so very close to the action, Carriage Way is quiet and peaceful in the evenings.
When traveling to St. Augustine, Carriage Way is the way to stay! The inn is proud to have the White Glove Housekeeping award. Enjoy convenient and complimentary off-street parking on-site for all of our guests which is a huge asset for a town that was originally built for carriages and foot traffic.
Accomodation Type: Bed and Breakfast
Address: 70 Cuna Street
Contact Carriage Way Bed & Breakfast:
Call: 904-829-2467
Visit: http://www.carriageway.com/