Ancient City Inn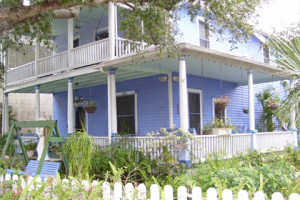 The Ancient City Inn is a BEAUTIFUL (pleasantly Haunted) Victorian home that was built in 1910 by Charles and Maude Sequi. He was a descendent of the Minorcans who first came to St. Augustine in the 1700s. The Sequi family lived in and loved this home for nearly 80 years and their "PRESENCE" is still felt here. Meet their only daughter "Martha Lee" who we call "the other lady of the house" and her friendly cat Toby. They are very active and playful spirits. Martha Lee voice is often heard on EVPs (electronic voice phenomena).

We are just north of the city gates and an easy stroll to the other sites that Americas oldest city has to offer. The Ancient City Inn has comfortable rooms with modern conveniences but we still maintain all the warmth and charm of a by~gone era! Relax on the porch swings and enjoy the surrounding gardens. We have a large private parking lot for the guests. Come and stay with us while enjoying our nations oldest city and have spiritual counseling or regression therapy by owner and spiritualist medium Rev. Carri Donnan.
Accomodation Type: Bed and Breakfast
Address: 47 San Marco Ave.
Contact Ancient City Inn:
Call: 904-829-3155
Visit: http://www.ancientcityinn.com/