Anastasia Inn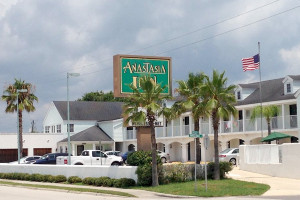 The Anastasia Inn is ideally located between Historic St. Augustine and St. Augustine Beach, one mile from the Historic Downtown area. Going in the opposite direction for 2 miles takes you past the St. Augustine Lighthouse, The Alligator Farm, Anastasia State Park and St. Augustine Amphitheatre before arriving at St. Augustine Beach.
The Anastasia Inn was built in 1998, and opened its doors for the first time in March of 1999. It is an upscale leader in the Lodging Industry, where the goal is to make your get-a-way to St Augustine, the best You and your family have ever had.
The Inn has 23 guest rooms, each designed specifically for your comfort at the Anastasia Inn. The rooms are furnished with top of the line Thomasville furniture – Lakehouse Series – to give you that warm and cozy feeling while you relax after your busy day in St. Augustine. The beds are Serta, and are available in both King and Queen sizes. Each Guest room is complete with coffee service, microwave, and refrigerator – which are located in a custom designed vanity area. For your entertainment a 25′ satellite / stereo TV is provided with easy front access to I/O jacks for computer games, and video cameras. The telephones contain an external data port for plugging in the lap top computers.
For those special evenings, or weekend get-a-ways, King rooms are also available to help you really unwind. For those extra hot Sunny days, or warm breezy nights, you can kick back and lounge pool side, while your family enjoys a dip in the pool.
Accomodation Type: Hotel
Address: 218 Anastasia Blvd.
Contact Anastasia Inn:
Call: 904-825-2879
Visit: http://www.anastasiainn.com/