Alexander Homestead Bed & Breakfast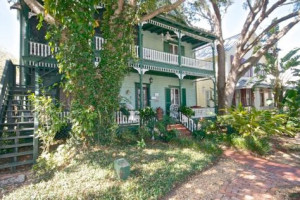 A Very Special  Romantic Bed and Breakfast Inn
located in the heart of St. Augustine's historic district.
Entering the Alexander Homestead, a premier St. Augustine bed and breakfast resort, through the picturesque front porch from the old fashioned garden walkway you can hear strains of classical music and spy a small book of Emily Dickinson's poetry in the formal living room that is rich with antiques and romance. The homestead has become Bonnie Alexander's sanctuary, where her guests return time and again to unwind from another time and place and slip into the sensual tranquility of the Alexander Homestead, St. Augustine's most romantic bed and breakfast.
Welcome to the Alexander Homestead romantic inn, historic bed and breakfast
Stroll down memory lane to an era held together as are all eras, by certain accepted values and beliefs, a certain widespread code of behavior. St. Augustine romantic inn, Alexander Homestead Bed & Breakfast, pays tribute to America's Golden Age, the Victorian years. This era was one of contrasts and contradictions, asking that the passionate and the proper, the sensual and the sentimental exist side by side.
Mixing family heirlooms with a treasured collection of St. Augustine antique furnishings, Bonnie's flair for decorating and homemaking are evident. Her St. Augustine bed and breakfast home has its own secret life that beautifully combines the "passionate and the proper, the sensual and the sentimental." An early morning coffee service awaits at 8:45am outside the bedroom doors in the main house*. By 9:00, breakfast is served in the formal dining room. "Everything I prepare is first class. . . eggs from the chicken farm, fruits from the fresh market, my homemade granola and endless entrees, like Country French apple casserole, green chili egg puff over tostados or warm homemade almond syrup drizzled over French Toast."
Accomodation Type: Bed and Breakfast
Address: 14 Sevilla Street
Contact Alexander Homestead Bed & Breakfast:
Call: 904-297-2357
Visit: http://www.alexanderhomestead.com/