Agustin Inn Bed and Breakfast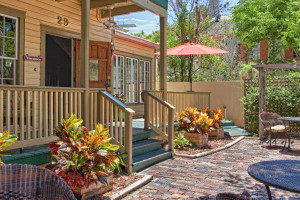 Agustin Inn Bed and Breakfast has 18 unique guest rooms. Each room has a private modern bathroom, 16 of which feature whirlpool tubs. Four rooms have private balconies and the rest have access to the gardens and terraces. The bed and breakfast's fourteen King and four Queen beds are luxuriously appointed with 100% cotton sheets. For your comfort, ample towels, aromatic lavender soap and shampoo, hair dryers, ceiling fans and cable television are included in each guest room. Refrigerators and irons are available upon request. For your convenience, WIFI is available in the public areas. An elevator services all three floors so most rooms are easily accessible.
In the morning Agustin Inn guests are treated to a two course, sit-down breakfast. Unique gourmet selections are designed around fresh and local ingredients. Breakfast is accompanied by a gourmet medium roast of Starbucks coffee made from a blend of Costa Rican and Colombian beans. Breakfast is served in the dining room, sun room and outside in the garden. Special dietary needs will always be accommodated.
Upon arrival you will be greeted by a warm welcome and genuine smile from the experienced and friendly staff. You will immediately notice the smell of fresh baked goods coming from the kitchen as goodies are always available to accompany your coffee. We make every effort to make your stay in St Augustine, FL at Agustin Inn Bed and Breakfast an enjoyable and memorable one.
Accomodation Type: Bed and Breakfast
Address: 29 Cuna Street
Contact Agustin Inn Bed and Breakfast:
Call: 800-248-7846
Visit: http://www.agustininn.com/