63 Orange Street Bed and Breakfast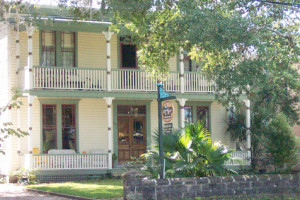 Stay at 63 Orange Street Bed and Breakfast on your next visit to St. Augustine Florida
Set among grand trees, in a quiet residential neighborhood in historic St. Augustine, 63 Orange Street bed and breakfast inn awaits you as one of this Florida city's most beautiful historical treasures. Only 2 blocks from the famous St. Augustine City Gates, which date back to the early 1700's, this historic St. Augustine bed and breakfast inn is convenient to downtown St Augustine, the nation's oldest city.
This grand 1884 home invites you to enjoy a comfortable combination of charming, elegant Victorian antiques and 21st century amenities. Eleven-foot ceilings and antique furniture are authentically Victorian, yet maintain a modern feel. King and queen-sized beds, private bathrooms with whirlpool tubs or the original claw foot tubs/shower, private balconies, central A/C and heat all provide the comforts of today. The elegant furnishings of this St. Augustine bed and breakfast create the look of yesterday.
It's obvious that owner/innkeeper Jackie Kent has given every consideration to your comfort while at 63 Orange Street Bed and Breakfast Inn. You'll feel quietly embraced by the aura of this beautiful home and a very warm welcome. The inn and its elegant Victorian furnishings seem to blend perfectly, putting you totally at ease.
You are invited to step back to a more relaxed and romantic era. Sit a while in a rocking chair on the upstairs front porch, unwind in the cool breezes on your own private balcony, walk around the little goldfish pond in the backyard flower garden, or settle in the library with a good book in your hands…And when you are ready, all the magic of St. Augustine is within a short two-block stroll.
Accomodation Type: Bed and Breakfast
Address: 63 Orange Street
Contact 63 Orange Street Bed and Breakfast:
Call: 904-824-6621
Visit: http://www.63orangestreet.com/
Social: