44 Spanish Street Bed and Breakfast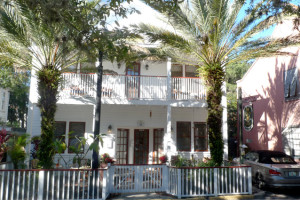 44 Spanish Street: Your Charming, Romantic and Affordable
Bed & Breakfast in the Heart of St. Augustine's Historic District
44 Spanish Bed & Breakfast, located in the bona-fide historic district of the nation's oldest city, is a divinely restored 1920s boarding house, which sets it apart in style and architecture from the majority of St. Augustine's Victorian-era B&Bs.
The Best Downtown St. Augustine B&B Location. Period.
Complete with the most perfect spot for people watching and taking in the sights, sounds, and even the mouth-watering melee of fine cuisine wafting in the air, 44 Spanish Street is a tourist attraction unto itself. You can take in the beautiful sights, the horse-drawn carriages, the ghost tours, the music carried on the wind from nearby nightspots, revelers and laughing families passing day and night—all without leaving the comfort of your beautiful terrace on the second floor.
Why Stay at 44 Spanish Street B&B?
Best Location in St. Augustine
Exceptional Concierge Service
Large, Bright & Light Dining Room
Free, Secure Parking on Spanish Street
Full Homemade Breakfast Served Every Morning
Located in the Heart of St. Augustine Historic District
Dine Al Fresco in the Vintage Bricked Courtyards & Gardens
Vintage Brick Courtyards Featuring Gardens & Comfortable Seating
Fascinating People-Watching & Glorious Views from Terrace & Balcony
Interesting Inn History—Much More Modern & Unique Among St. Augustine B&Bs
Accomodation Type: Bed and Breakfast
Address: 44 Spanish Street
Contact 44 Spanish Street Bed and Breakfast:
Call: 904-844-0600
Visit: http://44spanishstreet.com/